Experimental Radio licenses from the files of the Federal Communications Commission
Lynk Global Achieves Space-to-Standard Phone Link
On February 24, 2020, Lynk's experimental satellite licensed as WQ9XDP was received on an unmodified mobile phone in the Falklands. The test apparently was in "cell broadcast" mode — as in Wireless Emergency Alerts and Amber Alerts — and not an individualized call to a specific handset. (The video below contains an expletive.)
The company said that this milestone "culminated over a year of satellite-to-phone-on-the-ground testing involving multiple payloads in space." Tyghe Speidel, co-founder and VP Technology of Lynk stated,"This is a critical verification of our revolutionary radio access network technology's ability to compensate for the effects of placing the cell tower in orbit, which mobile standards were not designed for."
Lynk said it has launched its fourth "cell tower in space" spacecraft on SpaceX's CRS-20 mission. This spacecraft, which is named Lynk The World, will allow the company to expand testing in Summer 2020 to more countries and partners.
Facebook's Athena for Satellite Internet
WJ2XUG was issued to PointView Tech, reportedly a unit of Facebook, for the Athena satellite project in the 70 and 80 GHz bands. At this writing, the public record for this experiment was incomplete as the FCC had asked PointView for additional ground station information.
A detailed — if somewhat redacted — narrative of the experiment is at this link, with a technical exhibit here. PointView said it is "aiming to understand whether an NGSO [Non-Geostationary Orbit] system using E-band spectrum can be used for the provision of fixed and mobile broadband access in unserved and underserved areas."
See also, this May 2018 IEEE Spectrum story, Facebook May Have Secret Plans to Build a Satellite-Based Internet.
Viziv Looks Beyond Wireless Power Transmission
Viziv Technologies, licensee of WJ2XGB, a giant experimental station in Texas, has proposed additional uses for its technology beyond wireless power transmission.
In a response to a Department of Transporation inquiry on backups to GPS, the company noted its "license grants from the FCC at multiple frequencies, including the operating frequency of 100 kHz for timing and positioning demonstrations, and has in operation several ZSW [Zenneck Surface Wave] signal transmission systems."
"The company's objective would be to showcase the significant technical and economic advantages of its proprietary surface wave technology over traditional Hertzian radiated-wave systems," Viziv said.
Wireless Power Transmission in Millimeter Wave Spectrum
Another wireless power venture is Guru Wireless, which was issued WK2XRN for tests at 10, 24 and 62 GHz. "Radio wave energy is generated in the GU [generating unit], and then it is refracted and channeled into highly focused beams, which reach and power your devices," according to the Guru website.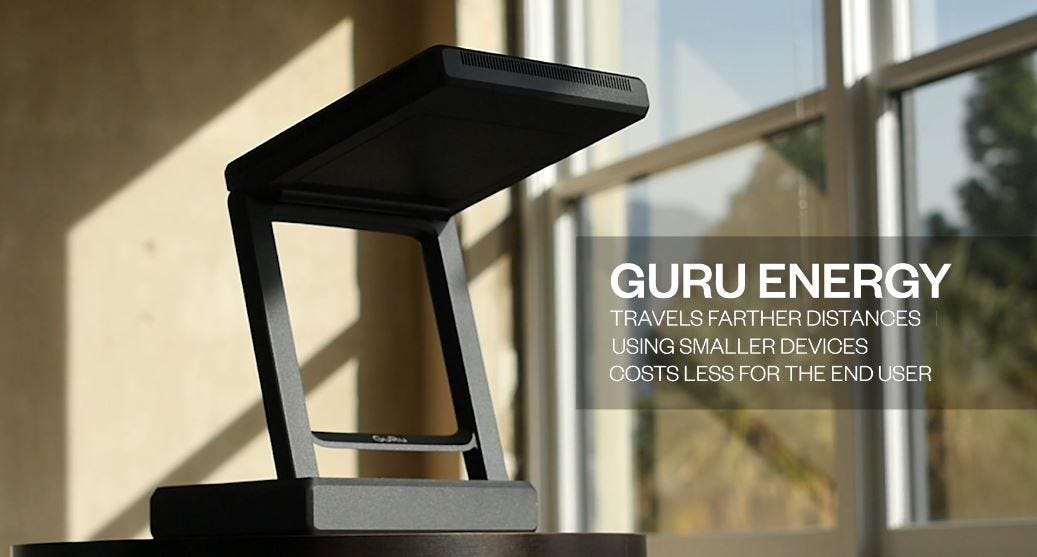 The company told the FCC that its power levels "can exceed FCC exposure standards at short distances. Equipment being tested has been specifically designed to prevent this through the use of interlocks that reduce power to safe levels if a human or pet enters the high power flux density area."
Microsoft Evaluates Concealed Object Detectors
Rohde & Schwarz USA was issued WP9XZP for Special Temporary Authority in association with Microsoft, which is evaluating security scanners apparently for its own use. The Rohde & Schwartz product is a "millimeter wave security scanner that automatically detects potentially dangerous items carried on the body or in clothing. It consists of a flat panel with 3,008 transmitter/receiver pairs that emit extremely low-power millimeter waves in very short succession," the company said.
"Persons being scanned stand squarely between the panels as if facing a mirror, holding their arms slightly away from their bodies. The detection software uses machine-trained algorithms to search for conspicuous objects of all material types. The scanner searches for anomalies indicating unusual objects rather than for certain items, enabling it to discover unknown and new threats. Microsoft intends to evaluate the effectiveness of the scanner device within a vestibule together with other security equipment to create a self-service physical security gate."
Tracking Border Surveillance
Marc DaCosta, PhD is tracking FCC licenses for surveillance experiments at the U.S. southern border. His investigations, including maps, photos and links to participating companies, are posted at this GitHub page.
DaCosta observed that in 2019, over 1000 applications were filed with the FCC for short-term experimental licenses along the border: "The majority of the applications come from defense contractors based in the US, Europe and Israel who are vying for billions in government contracts to build a virtual border wall. …Exploring the more remote areas may be of particular interest as patterns start to emerge in the placement and location of transmitters."
Avalanche!
Niiva OpCo LLC was assigned WK2XPS for 16 GHz avalanche detection radars at Salt Lake UT. The radars will be "staring into mountainsides at various locations in the mountain west. The final intent is to mitigate the dangers involved in avalanche prediction and most snow sports."
The research project is funded by the Transportation Avalanche Research Pooled Fund Program which pools money from state avalanche forecasting programs.
"Stealth" HF Research for Internet of Things
Rurisond describes itself as "a stealth mode company working on technology for the IOT (Internet of Things)." It was assigned WI2XCO for use in numerous high-frequency (HF) and VHF bands from 1.7 to 50 MHz from stations in California, Oregon and Washington, each at five watts.
Rurisond "is evaluating the propagation characteristics of equipment and software using near vertical incidence (NVIS), groundwave and meteorburst technologies," the company said. "Such capabilities could provide two‐way communications in rural or otherwise geographically remote areas that are not generally within the coverage of commercial service providers. Moreover, such capabilities serve as a substitute when regular communications circuits have been disrupted by disasters or emergencies."
The research is funded by Small Business Innovation Research (SBIR) grants as seen in this example.
Shortwaves from the Birthplace of FM. Or, Maybe Not
Looking ahead, August 1, 2020 is the license expiration date for Turms Tech LLC, the mysterious HF station authorized at the famed Armstrong Tower in Alpine NJ, the experimental site of FM inventor Edwin H. Armstrong.
The construction permittee is Paolo Cugnasca, a forestry entrepreneur and managing director of Emcor Securities in New York. Emcor subsidiary Turms Holdings LLC is the parent company of Turms Tech.
No details for Turms Tech ever became public, beyond its terse proposal to broadcast "financial, economic news and data through distribution of programs generally prepared on the basis of requests by clients."
Its engineer Donald Everist acknowledged our status inquiry but did not confirm that the station had been built. Cugnasca did not reply to our inquiry. The FCC has not received any application for license that would allow operation following construction.
I suspect that this station does not and will not exist. It may have been an oblique attempt to enter the low-latency trading business by way of the International Broadcast Station rules in FCC Part 73.
Turms Tech proposed to use Digital Radio Mondiale (DRM) transmission at 10 kW, unlike other U.S. HF broadcast stations which use AM at the minimum legal power of 50 kW. A peculiar exception to AM among these U.S. stations is WJHR Milton FL, which broadcasts religious sermons exclusively in single-sideband (SSB).
Other stations thought to be involved in international trading are licensed not as broadcasters, but as experiments such as 10Band (see next story, also Toggle Communications in ERN #1).
More HF Activity from the Secret Trading Stations
In February, 10Band LLC was issued WK2XTH, WK2XTI and WK2XSY for experimental shortwave stations in Wayne NJ, Everett WA and Elburn IL respectively. "10Band" may be derived from its list of ten high-frequency bands from 5 to 21 MHz.
As previously investigated by Bob Van Valzah, 10Band appears to be engaged in low-latency international trading. It was licensed as WI2XNX in 2016. See Wall Street Tries Shortwave Radio to Make High-Frequency Trades Across the Atlantic in IEEE Spectrum, June 1, 2018.
"The technologies subject to this experimental application are under development," 10Band told the FCC. "However, if the tests are successful, they may lead to substantial developments in the competitive wireless data transmission field."
Thanks for Reading
Please subscribe and share this free newsletter with your colleagues and associates. Follow ERN on Twitter at @experimradio.
Bennett Z. Kobb
Editor
bkobb@ieee.org
Arlington, Virginia USA